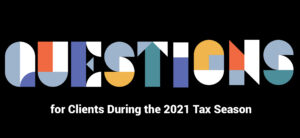 Every year, most tax professionals take a Form 1040 update class to understand the tax law changes that affect tax preparation. Then many take the cookie cutter organizer and send it to clients without review. Instead, take the time to review the questions, modify as needed, add ones that are missing, and add questions for your state.
The following scenarios discuss the questions which, from a quick review, are missed in some of the organizers reviewed for this article.
Advanced Child Tax Credit
New for 2021 (and only for 2021) is the advanced child tax credit (ACTC). These are the monthly payments sent to parents from July through December. They are intended as prepayments of 50 percent of the child tax credit (CTC) which are expected to appear on the 2021 tax return. Unless the taxpayers opted out, the Internal Revenue Service (IRS) used 2020 tax returns to estimate the CTC for 2021 and paid out 8.33 percent each month.
The IRS will be mailing Letter 6419 to all recipients of ACTC showing the amount of ACTC received during 2021. This amount must be included on line 15e (for most filers) of Schedule 8812, Credits for Qualifying Children and Other Dependents.

Question: Ask clients to provide Letter 6419. If they cannot find it, ask them for the amounts received via checks and direct deposits.
Cryptocurrency
Despite the IRS prominently placing the cryptocurrency question near the top of the Form 1040, there are still software providers that have not included the question in the organizer. A survey by the University of Chicago showed that 13 percent of Americans engaged in cryptocurrency in 2020. With those statistics, every tax professional should expect to have some clients answering "yes" to the cryptocurrency question.
Cryptocurrencies are taxed as property. Purchasing them is not a taxable event. Here are some taxable events associated with cryptocurrency:
Trading them, treated as capital gains or losses
Gifting them, treated as any other gift
Receiving them as wages, treated as such
Paying them as wages, treated as such
Receiving them as payment for services or products, treated as such
Forks with cryptocurrency provided to owner, treated as other income
Question: Ask clients if they are involved in cryptocurrency. If yes, then you can ask if they did anything other than purchase. Even though purchasing is not taxable, it is worth knowing that they did. Adding this to your notes will remind you in future years to be certain that the client has not sold or gifted the cryptocurrency.
Many tax professionals prepare returns for clients' dependent children. Often, the W-2 and 1099-INT forms are provided with the parents' documents and there is no organizer for the child. A Coinbase survey found that 18 percent of college students are involved in cryptocurrency. These students deserve to start their lives without IRS issues and the tax professional can help.
Question: Ask clients if their children are involved in cryptocurrency. Even better, ask the child.
Electric Vehicle Charging Stations
Most organizers ask about the purchase of an all-electric vehicle (EV) or plug-in hybrid electric vehicle (PHEV). The purchase can provide up to $7,500 in tax credits. A question often missed is about installing a charging station at home or business.
Both homeowners and businesses can receive tax credits for installing a charging station. Vehicles can be charged with a 110V outlet, which is the type of outlet generally used in your home for lamps, toasters, etc. The most common charging stations are 220V systems, which are similar outlets to electric clothes dryers and central air conditioning units. Homeowners can get a credit for up to 30 percent of the cost for wiring the 220V system (usually about $40–$1,000) and purchasing the charging station (usually about $600).
Because the credit for charging stations can be limited by the alternative minimum tax (AMT) and does not carry forward (vehicle credit may carry forward), it is sometimes advisable to delay installing the charging station until the year after the car purchase.
Question: In addition to asking clients if they purchased an EV or PHEV, ask if they installed a charging station.
Economic Impact Payment
(Recovery Rebate Credit)
While the second economic impact payment (EIP) paid in January of 2021 was included on the 2020 tax return, the third EIP, generally paid in April 2021, will be included on the 2021 tax return. After the struggle to get the information for 2020 tax returns, one can only hope that taxpayers have figured out to keep track of the payment. As happened on 2020 tax returns, line 30 of Form 1040 allows taxpayers to claim any unpaid or underpaid EIP through the recovery rebate credit (RRC). The IRS is treating errors in reporting EIP as "math errors" and not fraudulent deeds. Errors on this line will substantially slow down the refund process. As of early August 2021, there were still over 15 million 2020 tax returns being processed. One of the issues was verifying the RRC. The best way to reduce this is accuracy.
Question: Ask clients how much they received in the third economic impact payment (stimulus payment) provided to them in the April–May 2021 timeframe.
Pandemic Loan and Grants
Some small business owners seem to think that the Paycheck Protection Program (PPP) loans are automatically forgiven and have no tax consequences. While the process has gotten easier, it is not automatic. Even after forgiven, there are tax consequences. Some states are taxing the money as income. Forgiven PPP loans are federally tax-exempt income which changes the basis for partnerships and S corporations.
There are also many federal, state, and local grants created during the pandemic to help businesses. While the grant portion of Economic Injury Disaster Loans (EIDLs) and the grants from the Restaurant Revitalization Fund are generally tax-exempt, many of the state and local programs are not. Also, a few states are taxing the federal grants.
Question: Ask if the small business received a PPP loan and the official date of forgiveness. Also, ask if the business received one of the many pandemic grants available.
Teachers
Kindergarten through 12th grade full-time teachers can deduct up to $250 for out-of-pocket school expenses. Starting in 2020, personal protection equipment (PPE) was included on the list of eligible expenses.
Question: Ask qualifying teachers how much they spent on school expenses and PPE.
Refinancing of Mortgages
With low interest rates, 2020 and 2021 were big years for refinancing home mortgages. The Tax Cuts and Jobs Act (TCJA) changed the
law regarding deductible interest on mortgages. Only the interest on funds used for acquisition and improvement of the home can be deducted. Before, taxpayers could deduct the interest on an additional $100,000 borrowed against the home.
Unfortunately, when many people refinance, they take out some additional money. It might just be enough to cover the closing costs, or it could be extra to buy a car or pay for a semester of college. (Remember, if the extra is for home improvements, that amount is deductible.) When clients refinance, it is important to know the difference between how much they used to pay off the old mortgage and how much they borrowed.
Example:
Original mortgage: pay off amount = $200,000
interest on Form 1098 = $6,000
New mortgage: principal amount = $250,000
interest on Form 1098 = $5,000
Excess funds = $250,000 – $200,000 = $50,000
Proportion of interest tax deductible = $200,000/$250,000 = 80%
Deductible interest = original mortgage interest plus 80% of interest from new mortgage = $6,000 + ($5,000 * 80%) = $10,000
Prorating the interest will need to be done each year until the principal drops to the original mortgage payoff amount, which is $200,000 in this example. This is even true if the excess funds were used only for closing costs.
Even though the exact payoff numbers are not on the 1098 forms, there is enough information in box 2, Principal for the IRS, to determine if excess funds were borrowed.
Question: In addition to asking clients if they refinanced, ask for the closing documents which will show the payoff amount and the amount of the new mortgage.
Charitable Donations
For 2020, Congress allowed an above-the-line deduction of up to $300 per tax return for cash charitable contributions. For 2021, it is below the adjusted gross income (AGI) line and up to $300 per taxpayer. This may be a new "tax extender" with Congress reviewing it each year. Many taxpayers who normally take the standard deduction have stopped tracking and reporting donations to their tax preparer.
There is an increased penalty for errors in this deduction. It must be cash (cash, check, or credit card) to a 501(c)(3) or religious organization. As with all donation deductions, receipts for amounts of $250 and higher are required. Receipts, cancelled checks, or credit card statements are required for amounts under $250.
Question: Ask clients about donations. It is worth emphasizing that you need the first $300 of receipts even if they are using the standard deduction.
State Questions
Each state is different. While it is nearly impossible to address all questions for all states, most tax professionals have a majority of clients from one state.
For example, some states allow rent deductions, contributions to charities, student loan interest deductions above the federal level, money set aside for campaign funds like the federal presidential program, and more.
Questions for New Clients
New clients require some extra work. In some cases, information from past returns can substantially improve the 2021 refund.
The pandemic unemployment and underemployment issues were going to cause some taxpayers to have lower income and thereby lower earned income credit (EIC) for 2020. To correct this, Congress included in the Taxpayer Certainty and Disaster Tax Relief Act of 2020 a provision that taxpayers could use their 2019 income for EIC calculations if it was greater than their 2020 and 2021 income.
The IRS even added line 27c to Form 1040. A taxpayer's 2019 income is listed here if it is used to calculate EIC for 2021. The EIC appears on line 27a.
Question: Ask clients who qualify for EIC for their 2019 earned income.
The Coronavirus Aid, Relief, and Economic Security (CARES) Act allowed distributions of retirement funds, up to $100,000, to be taxed in 2020, taxed over three years, or paid back within three years. Paying back the funds allows taxpayers to amend their 2020 returns.
Question: Ask any client who withdrew retirement funds in 2020 if the funds were paid back or will be paid back.
The credits for energy-efficient home improvements are capped at $500 lifetime. Because these credits have been available since 2006, looking at the last three years of tax returns will not answer if the client met the cap. The client may not know, remember, or choose to answer honestly, but it is the tax professional's duty to ask about past credits. The lifetime limit appears on line 18 of Form 5695.
Question: Ask any client who wants to claim the energy-efficient home improvement credits if any have been used in the past.
Other Questions to Consider
The following are some other questions which did not appear on some organizers but should be included.
The pandemic resulted in some dependents, mostly college students and high school seniors, receiving unemployment.
Question: Ask if dependents received unemployment.
There were expectations of higher divorce rates due to the pandemic. The first few months started that way, then the numbers dropped. Some people expect an uptick as the economy rebounds. Even without separating, there are reasons, like student loan debt, that couples may want to file separately. Reminding a client that married filing separately (MFS) is an option is important. It may lead to a discussion about a pending separation, student loans, financial concerns, etc.
Question: Ask married clients if they want to file separately, jointly, or have you review.
Many people pick up hobby or side jobs that they do not consider consequential. During the pandemic, people may have started or expanded hobbies that generated revenues.
Question: Ask clients if they have any revenue generating hobbies.
Getting a sufficient amount of information requires asking questions. If the questions are not important, they should be removed, not ignored. The organizer is intended to improve efficiency and accuracy. That can only be done if the questions are reviewed and modified before sending to clients. Along with the critically important engagement letter, tax professionals should not make assumptions but should instead require clients answer all the necessary questions.